Greetings, Dear Ones! Happy Monday! 💗
Photo Found on Facebook
Can you believe it? It's the first Monday in March, winter is nearly over, and spring is just around the corner! I'm getting excited! Are you?
🌷🍀🐣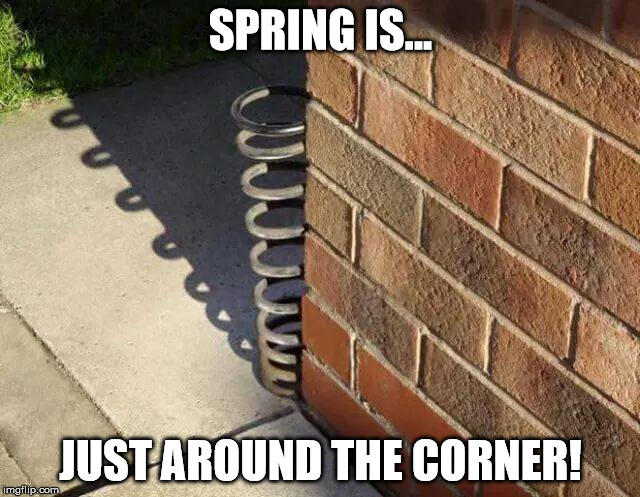 Photo Found on Facebook
How was your week and weekend?
Mine here was busy. Lots going on with family and friends, plus extra days at work meant little down time for me. At this point, though, the week ahead looks much quieter, so I'm hoping to dig in and get some things done around the house that needs doing before mid-month.
I need to get going soon, so let's get right on into this week's post...shall we? Please join me as we visit
Sandra
and the other lovely ladies on this week's
Happy Homemaker Monday
.
The weather...
At the moment it is 41 degrees and cloudy, but, overall the week ahead looks great! There are a few chances for rain, but daytime temps are expected to be in the 50's and 60's and all nighttime temps are expected to be above freezing. Yeah! (I can hear those energy dollars saved racking up already!) 💲💲💲
How I am feeling this morning...

... Being as it's the beginning of March and spring is on its way, I am feeling hopeful. With spring comes such a time of renewal in nature and, over the years, we have, oftentimes, found it to be a time of renewal for us as well...spiritually, physically, mentally, emotionally, and financially. So, yes, with the soon arrival of spring on the horizen I am feeling very hopeful about many things that have laid dormant for too long.


On my mind...
... Am thinking about the day and week ahead. There is much to do and I always feel like I am running behind. I need to stop that. If something doesn't get done it will still be there when I come back to it. The problem is, sometimes I don't get back to it for weeks, months...even years! I need to start laying some stuff aside and focus on what's most important. My goal for today is to make lists and get things sorted out as to what's what.
On the breakfast plate...
... fresh fruit and raspberry leaf tea.
... am almost finished with Greater Health God's Way by Stormie Omartian, have finished The Great North American Prairie by Sara St. Antione, and
am getting ready to start a new study with my friend, Carla,
Bible Prayer
by Kenneth E. Hagin (Study Course Series). Am still undecided as to what reading books to tackle next.
Treasures of the Snow
Call of the Wild Television Series
On the menu this week...
Monday - Baked potato, steamed fresh veggies, and fresh fruit 🥔
Tuesday - Turkey I
talian sausage and roasted potatoes and salad 🥗
Wednesday - Roast turkey, mashed potatoes, and asparagus 🦃
Thursday - Roast beef with potatoes, carrots, and onions 🐮
Friday - Broiled salmon, mashed sweet potatoes, and salad 🐟
Saturday - John's night to cook (probabaly pasta, meatballs from the freezer, salad and homemade French bread...I hope!) 🍝
Crocuses Blooming In Our Yard
Looking around the house...

... It's not too bad. I haven't been home much and, when I have been, I was able to pretty much keep up with stuff, and, when I haven't been home, John has been good about keeping up with the kitchen, dishes, and trash, so, not bad at all. Needs a general cleaning, then I can get started on bigger jobs.
Chore I'm not looking forward to today or this week...

... I can't think of anything that I'm not looking forward to.
I still need to take down all the glassware in the kitchen (teacups, pots, and saucers) and wash the winter dust and grime off of them before putting them back and I still need to deep clean the Van Gogh room. I didn't get to do a thing in there last week, so, hopefully, those jobs will actually get done this week! (I hope!) 😊
To relax this week, I will...

... enjoy cups of hot tea, read, and walk
On my prayer list...
- President Trump, Vice-President Pence, and every other elected official in this country - that they would be convicted in their hearts of any wrong doing against the American people and be endowed with Biblical wisdom from on high at every turn
- For a great awakening in America and beyond
- For a local family that tragically lost a loved one in an accident last week
- For friends and family members that are going through various trials right now
Devotional/Bible verse...
Well, Ladies, that's it for this week! I pray that each and every one of you have a lovely, productive, and great week ahead!
Recent and related posts that you might enjoy reading...